Essentially, we work with portable nail drills. You want to look for a rechargeable machine (not wall plug-in) that reaches at least 35,000 RPM. I highly recommend a brushless (a.k.a. coreless) motor drill if your budget allows, but a regular motor is fine for a beginner starting out as a hobbyist.
Learn about the difference between the motor types here.
Starting with my most recent purchase and working backwards, these are the drills I own and have used myself. Prices fluctuate, but I have listed what I personally paid for each. Keep an eye out, too– Amazon is always running sales and offering coupons. Hope this helps you when you're shopping around!
PROS
STELLAR price point
35,000 RPM
brushless motor
comfortable hand piece (actually the same as my workshop drills)
simple design
*listed at $46.19, AND THEN there was an 50% off Amazon coupon!
CONS
no pause button
listing showed spiral cord, but arrived with a regular one
turns on easily if anything presses against the center dial
PROS
Great price point
35,000 RPM
Spiral cord
small footprint
CONS
currently unavailable on Amazon (as of 10.23.23)
no pause button
price greatly fluctuates (saw as high as $99, as low as $30)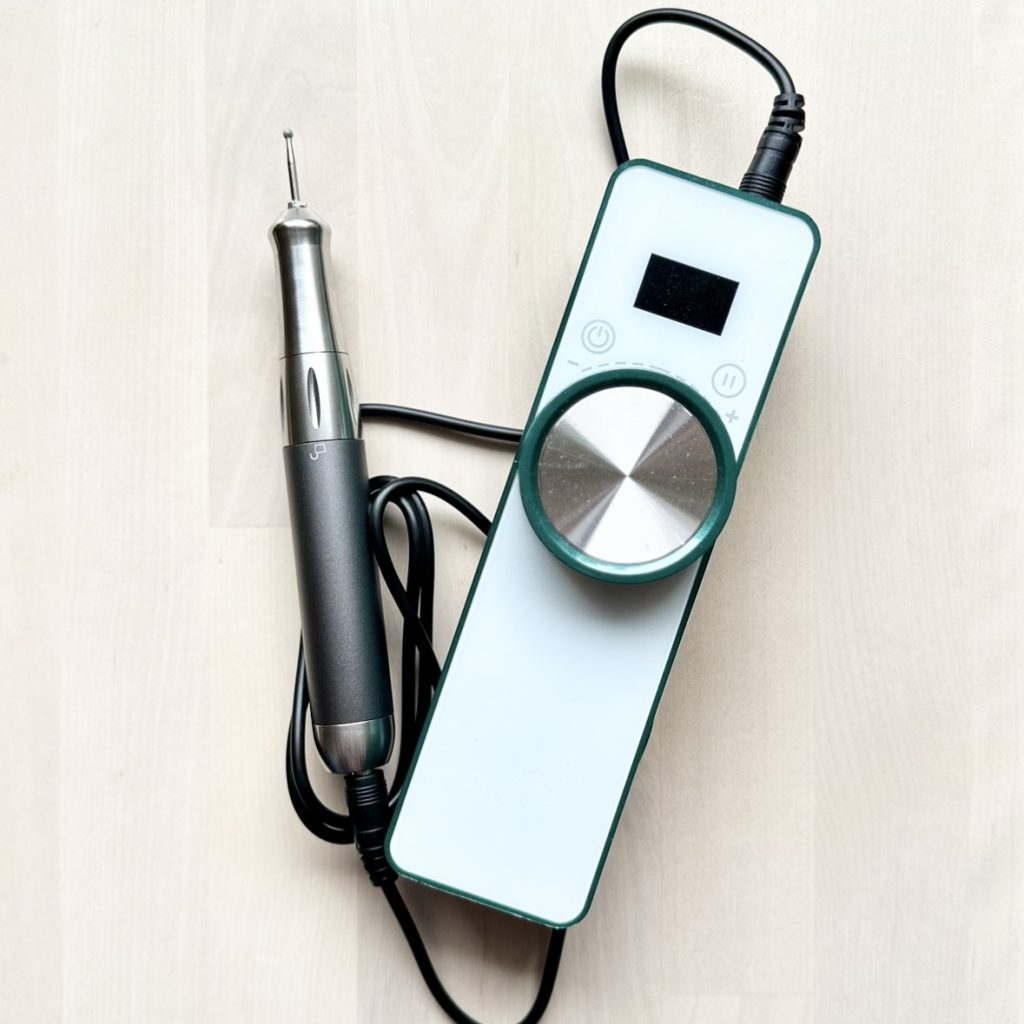 PROS
available in several colors
body of the drill is lightweight and slim
hand piece is slightly more weighted (my personal preference)
comes with a matching stand
*listed at $50 each, but avg. $65 with all taxes/fees
CONS
had to purchase from international wholesaler and pay shipping/taxes
non-spiral cord
PROS
Brushless motor
40,000 RPM
Can be used as a portable power source
Sleek design
Comes with a convenient storage stand
CONS
Cord is not spiral (perhaps a pro for you)
My model is a knockoff (didn't know when I purchased!), but does work fine… when it's working
Hiccups in consistency
PROS
Great price point for beginners
35,000 RPM
Spiral cord
Minimalist design
NOTE: I don't recommend spending more than $40 on a brush motor drill
CONS
brush motor, a.k.a. NON-brushless motor (hand will tire more easily and more quickly)
Vibrates more (brush motor) so may be harder to achieve smooth lines
Due to fatigue, not recommended for long periods of engraving
PROS
Brushless motor
35,000 RPM
Spiral cord
Aesthetically pleasing
CONS
Price greatly fluctuates on Amazon (was $92 on Black Friday 2022, currently $170)
Obvious manufacturer logo
PROS
Created for calligraphers
Brushless motor
Color choice
Option to have your own logo engraved onto it
CONS
Pricey
Cord is non-spiral
PROS
You may already have a Dremel in your garage!
CONS
Needs to be plugged into wall outlet
Bulky
Only 22,000 RPM
Interested in engraving lessons?
Further questions?